Uma das bandas fundamentais e mais criativas do cenário musical indie e alternativo são, certamente, os norte americanos The Flaming Lips, de Oklahoma. Há quase três décadas que gravitam em torno de diferentes conceitos sonoros e diversas esferas musicais e em cada novo disco reinventam-se e quase que se transformam num novo projeto. Oczy Mlody é o nome do trabalho que este coletivo liderado pelo inimitável Wayne Coyne lançou no dealbar de 2017 e mais um capítulo de uma saga alimentada por histórias complexas (Yoshimi Battles the Pink Robots), sentimentos (The Soft Bulletin) e experimentações únicas (Zaireeka) e ruídos inimitáveis (The Terror).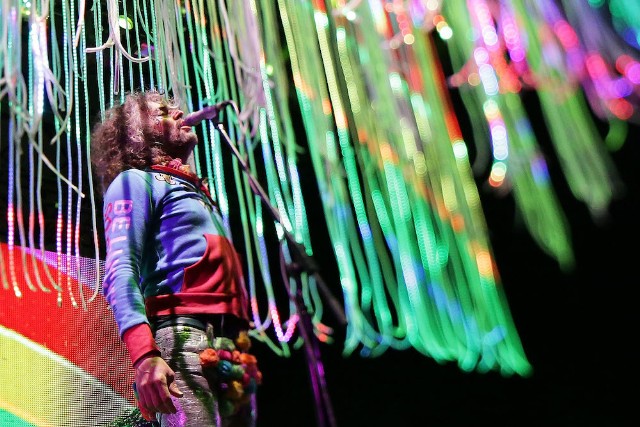 Há algumas semans, em pleno Record Store Day, os The Flaming Lips resolveram inovar de novo com o lançamento de algo ainda mais incrível e complexo, um registo intitulado The Flaming Lips Onboard The International Space Station Concert For Peace. Simularam em estúdio como seria um concerto do grupo na estação espacial (ISS) e de cujo alinhamento fariam parte sete dos temas de Oczy Mlody. O resultado final é uma performance ficcional verdadeiramente fantástica, onde não falta interação com o público e a indie pop etérea e psicadélica, de natureza hermética, que cimenta Oczy Mlody. Das batidas sintetizadas de Nigdy Nie (Never No) ao efeito do baixo de Do Glowy, passando pela copiosa descrição do fim do mundo em There Should Be Unicorns e o verdadeiro muro das lamentações que é How??, abundam aqui instantes sonoros onde a habitual onda expressiva relacionada com o espaço sideral, oscila, desta vez, entre efeitos etéreos e nuvens doces de sons que parecem flutuar no espaço, com guitarras experimentais, com enorme travo lisérgico.
The Flaming Lips Onboard The International Space Station Concert For Peace é um curioso e bem sucedido exercício de complementaridade da filosofia subjacente a Oczy Mlody, um registo que colocou os The Flaming Lips na linha da frente dos grupos que se assumem como bandas de rock alternativo mas que não se coibem de colocar toda a sua criatividade também em prol da construção de canções que obedecem a algumas das permissas mais contemporâneas da eletrónica ambiental. Uma das virtudes e encantos dos The Flaming Lips foi sempre a capacidade de criarem discos algo desfasados do tempo real em que foram lançados, quase sempre relacionados com um tempo futuro, cenários imaginados e universos paralelos. Este concerto é mais um atestado dessa feliz e incontornável evidência. Espero que aprecies a sugestão...
01. How??
02. Do Glowy
03. Listening To The Frogs With Demon Eyes
04. Nighty Nie (Never No)
05. The Castle
06. There Should Be Unicorns
07. We A Family