Mais de meia década depois do excelente Modern Vampires of the City, disco lançado em dois mil e treze, os Vampire Weekend de Ezra Koenig, Rostam Batmanglij, Chris Baio, Chris Tomson e Greta Salpeter, estão finalmente de regresso aos lançamentos discográficos com Father Of The Bride, o quarto disco da carreira do grupo de Nova Iorque, que irá ver a luz do dia a três de maio, através da Columbia Records.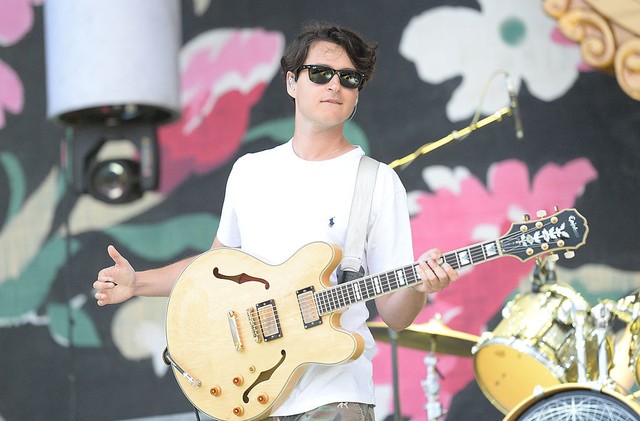 Father Of The Bride será um disco duplo com dezoito composições e um terço do seu alinhamento está a ser divulgado ao grande público no primeiro semestre deste ano, tendo esse processo já dado o pontapé de saída com Harmony Hall e 2021, em fevereiro e Sunflower e Big Blue, no início de março. Agora, cerca de um mês depois, é divulgada a terceira fornada, constituída pelas canções This Life e Unbearably White.
This Life é um buliçoso tema, uma composição solarenga e com um groove bastante charmoso, assente num trabalho rítmico e percurssivo bastante radiante. Conta com a participação especial vocal de Danielle Haim e tem como principal curiosidade uma letra inspirada nas canções It Never Rains in Southern California, um sucesso de mil novecentos e setenta e dois da autoria de Albert Hammond, pai de Albert Hammond Jr., membro dos The Strokes e presença assídua neste blogue (Baby I know pain is as natural as the rain, I just thought it didn't rain in California) e, no refrão, na composição Tonight, do rapper californiano iLoveMakonnen (You've been cheating on, cheating on me, So I've been cheating on, cheating on you).
Quanto a Unbearably White, tema que se debruça no modo cínico como a questão do racismo é hoje tratada numa cada vez mais politizada e dividida América (There's an avalanche coming, Cover your eyes), trata-se de uma composição mais melancólica e intimista, com uma vasta inserção de arranjos de cordas e outros de origem sintética a pairarem sobre uma melodia intrigante e algo densa. Confere... 
01. This Life
02. Unbearably White