Marrow é um vegetal parente da courgette, cultivado nas ilhas britânicas, na Holanda e na Nova Zelândia e agora também o título do novo registo de originais dos extraordinários You Can't Win, Charlie Brown de Afonso Cabral (voz, teclas, guitarra), Salvador Menezes (voz, guitarra, baixo), Tomás Sousa (bateria, voz), David Santos (teclas, voz), João Gil (teclas, baixo, guitarra, voz) e Luís Costa (guitarra). Gravado no HAUS, por Fábio Jevelim, Makoto Yagyu e Miguel Abelaira e misturado por Luís Nunes, também conhecido por Benjamim, colaborador de longa data dos You Can't Win, Charlie Brown, Marrow é um sentido conjunto de quadros sonoros pintados com belíssimos arranjos de cordas, sintetizadores capazes de fazer espevitar o espírito mais empedernido e imponentes doses eletrificadas de fuzz e distorção, que se saúdam amplamente, tudo adornado por uma secção vocal contagiante, que proporciona ao ouvinte uma assombrosa sensação de conforto e proximidade.
Com tantas bandas e artistas a ditar cada vez mais novas tendências no indie rock, é refrescante encontrar por cá alguém que o faz de forma diferente e de modo profundo, intenso e poderosamente bem escrito, ainda por cima depois de os You Can't Win, Charlie Brown terem calcorreado territórios sonoros mais acústicos e introspetivos, em trabalhos anteriores. Assim, se a groove vibrante e profundamente orgânica de Above The Wall, o tema que abre Marrow, mal dá tempo para recuperar o fôlego, logo depois, canções como a solarenga e festiva Linger On, a rockeira e sumptuosa Pro Procrastinator e, num registo mais melancólico e introspetivo, a cadência lancinante de Mute, escancaram-nos um mundo inédito, cujos códigos e fechaduras só os You Can't Win, Charlie Brown conhecem, mas que anseiam por partilhar com todos nós. E tal só sucederá eficazmente se estivermos sedentos de sensações revigorantes e reflexivas, já que este coletivo socorre-se continuamente de imagens evocativas, que depois sustenta em melodias bastante virtuosas e cheias de cor, arrumadas com arranjos meticulosos e lúcidos e variações rítmicas e emotivas inesperadas, um caudal sonoro e lírico cuja filosofia subjacente prova a sensibilidade dos You Can't Win, Charlie Brown para expressarem pura e metaforicamente a fragilidade humana.
Até ao ocaso de Marrow continua a desfilar um rol imenso de sensações, vivências, confissões, avisos, ordens e conselhos, um glossário abrigado sonoramente em influências que tendo o rock experimental como génese, abastecem-se da psicadelia setentista, audível na intrincada Joined By The Head e na majestosa Bones, mas também da eletrónica dos anos oitenta, exemplarmente documentada na alegoria pop extravagante e irresistivelmente dancável de If I Know You, Like You Know I Do e ainda, aqui e ali, nos primórdios da surf pop, do jazz e da querida folk, imponente nas cordas iniciais e nos coros de In The Light There Is no Sun, canção que vai do recanto escuro mais seguro do nosso aconchego à nuvem de algodão com melhor vista que adorna o céu onde cabem todos os nossos sonhos.
Marrow escuta-se num ápice e não deixa ninguém indiferente! Mexe, espicaça, suscita um levantar de poeira que depois não se resolve de modo a que no fim assente pedra sobre pedra e exala uma curiosa sensação de sofreguidão, porque se quer ouvir sempre mais e mais e ficar ali, preso neste mundo dos You Can't Win, Charlie Brown, consistentes e esplendororos no modo como, música após música, conceptual e criativamente nos confortam e desassossegam com melodias maravilhosamente irresistiveis e onde é muito ténue a linha que separa o positivamente irascível do enigmaticamente ternurento. Espero que aprecies a sugestão...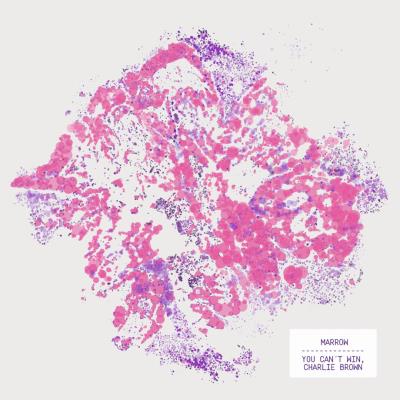 1 – Above The Wall
2 – Linger On
3 – Pro Procrastinator
4 – Mute
5 – If I Know You, Like You Know I Do
6 – In The Light There Is No Sun
7 – Joined By The Head
8 – Frida (La Blonde)
9 - Bones