Acaba de chegar aos escaparates à boleia da Merge Records, Out In The Storm, o novo álbum do projeto Waxahatchee de Katie Crutchfield, sucessor do excelente Ivy Tripp (2015), dez canções produzidas por John Agnello e pela própria Katie e que lançam definitivamente este quarteto feminino nas enigmáticas profundezas de um indie rock de forte pendor lo fi, muito próximo de algumas das melhores propostas que surgiram dentro desse espetro sonoro em finais do século passado.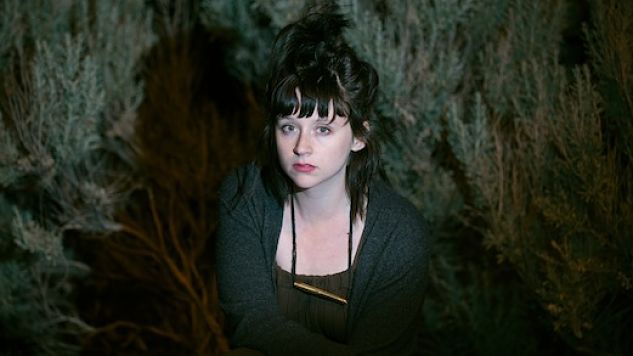 A presença de John Agnello na produção deste disco, um génio que já colocou as unhas em álbuns dos Sonic Youth, terá contribuido decisivamente para o ambiente sonoro de um disco que logo em Never Been Wrong expõe muitos dos seus atributos; riffs de guitarra que têm tanto de explosivo como de melódico, quebras e alterações rítmicas constantes e um baixo que não se coibe de mostrar fulgor e, muitas vezes, de assumir, solitariamente, a condução melódica de parte das canções.
Terceiro álbum dos Waxahatchee, Out In The Storm exala, assim, um elvado despudor relativamente a convenções estilísticas ou cuidados ao nível sonoro que busquem a limpidez e o polimento. Em 8 Ball, mesmo que exista um dedilhar de cordas mais luminoso em certos instantes, o baixo anda sempre por ali, a debitar uma salutar sujidade e as constantes acelerações e paragens da bateria fazem adivinhar que a qualquer momento poderá acontecer uma qualquer explosão sónica, carregada de riffs e distorções. A seguir, a batida seca e frenética da bateria de Silver, a eletrificação constante da guitarra e um registo vocal ecoante, cimentam ainda mais a impressão inicial de este ser um disco de pura essência rock, comandado por espíritos livre de arquétipos, mas também contestatários no modo como parecem querer rebelar-se contra a tendência atual de criar discos que tenham sempre na linha da frente uma perspetiva puramente radiofónica em detrimento de uma condução criativa que obedeça em primeiro lugar, aos gostos pessoais e à veia criativa dos artistas.
Percebe-se que estas Waxahatchee não se regem pelo convencional, mas apenas por uma espécie de informalidade criativa e que, ao contrário do que sucede muitas vezes, não exala um exacerbado experimentalismo, já que os temas são, na sua essência, sempre muito diretos, mesmo quando no pós punk de Recite Remorse e na suavidade acústica de A Little More e de Sparks Fly, numa abordagem eminentemente clássica, calcorreiam territórios mais ambientais, ou no baixo impulsivo de Hear You e na guitarra rebarbante de No Question existe uma notória abordagem ao rock de cariz mais progressivo, ruidoso e monumental.
Enganadoramente simplistas, as Waxahatchee oferecem-nos neste Out In The Storm uma saudável espontaneidade, num alinhamento alicerçado em belíssimas letras entrelaçadas com deliciosos acordes e melodias construídas com os típicos instrumentos do indie rock tipicamente lo fi. Estas evidências desarmam completamente as Waxahatchee de todo aquele mistério, tantas vezes artificial, em que muitas bandas femininas apreciam se envolver, para mostrarem, com ousadia, a verdadeira personalidade destas quatro intérpretes genuinas e preciosas. Espero que aprecies a sugestão...
01. Never Been Wrong
02. 8 Ball
03. Silver
04. Recite Remorse
05. Sparks Fly
06. Brass Beam
07. Hear You
08. A Little More
09. No Question
10. Fade