Chegam de Edimburgo, na Escócia, têm um irlandês lá pelo meio, atualmente assentaram arrais em Dalston, aquele bairro de Londres onde tudo acontece, chamam-se Django Django e são um nome a acompanhar com toda a atenção. A banda, formada então por Dave Maclean, Vincent Neff, Tommy Grace e Jimmy Dixon, editou no passado dia trinta de janeiro o homónimo álbum de estreia, feito com uma pop angulosa e, com aproximadamente duas semanas de atraso, venho com orgulho partilhar uma das obras discográficas mais frescas e deliciosas que 2012 já conseguiu proporcionar.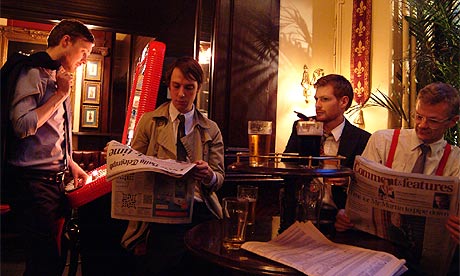 Default é o single que apresenta o disco e a guitarra distorcida que abre a música traz-me nuvens e bolhas flutuantes dos The White Stripes, assim como a produção instrumental da canção. Já agora, quem quiser, pode pôr mão à remistura gratuita dos Walls. Também gostei muito de Hail Bop, uma mistura desconcertante de tambores tribais e assobios de cowboy que dão um encanto irresistível ao refrão. Há ecos de Hot Chip em Hand Of Man, Love's Dart assenta num tambor acústico que poderia ecoar num local bem recôndito do cérebro de Gruff Rhys e Life's A Beach é um hino imediato, ao bom estilo Tarantino vs Calexico. Toda esta dose divertida de experimentalismo, que muitos rotulam como art pop, art rock ou ainda beat pop, é acompanhada por guitarras que parecem ter saído do farwest antigo e por efeitos sonoros futuristas. Basicamente, uma mistura perfeita de géneros. Se há algumas décadas atrás os Beach Boys compuseram a banda sonora ideal para alguns western spaghetti, com uma sonoridade na altura considerada bastante futurista, estes Django Django aventuraram-se, neste Django Django, a criar um som bastante caraterístico, às vezes incongruente, mas com um fio condutor assente em vozes estilizadas e efeitos sonoros espaciais, que levam a banda a querer cumprir atualmente essa mesma função.
Não é fácil associar estes Django Django a uma qualquer outra banda em funções, num tempo em que a crítica tem sempre a obsessão em encontrar paralelismos e pontos de encontro no universo sonoro alternativo; No máximo, consigo encontrar alguns traços sonoros semelhantes à música dos extintos escoceses Beta Band, até porque existe uma liagação familiar; David Maclean, o vocalista e principal mentor deste projeto, é o irmão mais novo do teclista dos Beta Band, John Maclean. Mas, mais do que esses traços sonoros intrépidos e ecléticos, as bandas aproximam-se por algum paralelismo conceptual, até porque os Beta Band, quando surgiram, foram de imediato considerados uma anomalia um pouco estranha e o os Django Django são quatro músicos que, entre muitas outras coisas, tocam baixo, guitarra, bateria e cantam, mas tudo isto é praticamente a única coisa que têm em comum com qualquer outra banda emergente no cenário alternativo atual. Espero que aprecies a sugestão...
01. Introduction
02. Hail Bop
03. Default
04. Firewater
05. Waveforms
06. Zumm Zumm
07. Hand of Man
08. Love's Dart
09. Wor
10. Storm
11. Life's a Beach
12. Skies Over Cairo
13. Silver Rays