No próximo dia vinte e três de outubro a Matador Records vai apresentar ao mundo Banks, o novo disco a solo e segunda da carreira de Paul Banks, vocalista e guitarrista dos Interpol.
Banks tem dez canções e foi gravado entre Nova Iorque e o estado do Connecticut, com o produtor Pater Katis, habitual colaborador dos Interpol, The National, Shearwater e que também produziu Go, o disco a solo de Jónsi. Para antecipar Banks e aguçar o apetite, a Matador Records disponibilizou a tracklist do álbum e o primeiro single, The Base. Confere...
1. The Base
2. Over My Shoulder
3. Arise, Awake
4. Young Again
5. Lisbon
6. I'll Sue You
7. Paid For That
8. Another Chance
9. No Mistakes
10. Summertime Is Coming
Um músico belga chamado Elvy acaba de lançar um disco que é um verdadeiro tratado folk, com uma sonoridade pouco comum para um artista europeu. O disco e a restante discografia estão disponíveis para download gratuito no bandcamp do músico até ao próximo dia onze de agosto. Apressa-te e dá uma oportunidade a este cantor e compositor que parece ser muito genuíno na sua obra, além de ter um indesmentível talento.
01. You Do Belong (Alt)
02. Calliope
03. I Miss My Sister
04. Walk Away
05. Amy
06. I'm Yours
07. Aging Love
08. Wandering
09. Goodbye
10. Light
Como se não bastasse toda a expectativa criada em torno do novo álbum dos The XX, Coexist, a banda aumenta a ansiedade cada vez que revela uma nova canção. Depois da adorável Angels, em meados de julho, chegou aos meus ouvidos Chained. Com uma empatia cada vez maior  entre o dueto Romy Madley-Croft e Oliver Sim, a canção mostra que a estética redutora do grupo mantém-se, algo que as batidas compenetradas e o clima envolvente definem nos quase três minutos desta canção. Coexist será lançado no dia dez de setembro e é um dos álbuns mais aguardados de 2012.
Enquanto não lançam nenhum novo disco, uma nova surpresa dos Wavves é sempre bem vinda. Desta vez o grupo natural da califórnia e liderado por Nathan Williams fez uma música para uma coletânea apenas com músicas inéditas de vários artistas, relacionada com o sitio de animação Adult Swim. A canção chama-se Hippies Is Punks, está disponível para download gratuito e afasta um pouco a banda da sonoridade surf rock por onde tem navegado. A canção é menos festiva e tem uma sonoridade típica da década de noventa, com potentes guitarras a liderarem a melodia. Confere...
Os Mumford and Sons, banda que deu um excelente concerto no último Optimus Alive, divulgaram a primeira amostra do seu segundo álbum Babel, nas lojas no próximo dia vinte e quatro de setembro. Marcus Mumford (voz) e Ben Lovett (teclas, acordeão) falaram recentemente sobre Babel e divulgaram que, à semelhança da estreia Sigh No More, este Babel foi produzido por Markus Dravs, colaborador dos Arcade Fire.
Os norte americanos Wilco andam a disponibilizar gratuitamente no site oficial da banda alguns dos seus últimos concertos. O último, e quinto da série, foi um espétaculo do grupo no passado dia vinte e cinco de julho, na big apple. Confere...
01. One Sunday Morning (Song For Jane Smiley's Boyfriend)
02. Art Of Almost
03. I Might
04. At Least That's What You Said
05. She's A Jar
06. Kamera
07. Can't Stand It
08. Too Far Apart
09. What's The World Got In Store
10. Impossible Germany
11. Born Alone
12. Capitol City
13. Laminated Cat (Aka Not For The Season)
14. Summer Teeth
15. Whole Love
16. Theologians
17. I'm The Man Who Loves You
18. Dawned On Me
19. Shot In The Arm
Encore
20. Passenger Side
21. Casino Queen
22. Candyfloss
23. Hesitating Beauty
24. A Magazine Called Sunset
25. Kicking Television
Encore
26. The Late Greats
27. Dreamer In My Dreams
28. The Lonely One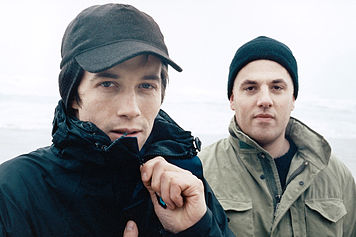 Termino empolgadíssimo com a minha mais recente descoberta; Acaba de ser divulgado uma nova canção da dupla Zero 7 e o vídeo da mesma. A música chama-se The Colour Of Spring, um original dos Talk Talk e conta com a participação especial de Only Girl. O vídeo foi realizado por Brendan Canty, um dos realizadores mais requisitados do momento. A música fará parte de uma coletânea chamada Spirit Of Talk Talk, onde se poderão escutar alguns clássicos dos Talk Talk por artistas da atualidade.
Spirit Of Talk Talk será editado pela Fierce Panda no próximo dia três de setembro e pode ser encomendado aqui.